AECI Much Asphalt is Southern Africa's largest commercial asphalt producer. The sustainability of the South African asphalt industry and of the communities where the firm runs its 14 plants is critical to its growth and success. The firm's flagship plant and biggest employer is in Benoni.
AECI Much recognises unemployment and a scarcity of skills as major threats to the future of its business and has used creative thinking to build a loyal, productive workforce and to ensure that small enterprises using its products have the skills to succeed.
Looking for solutions to its diverse employment requirements in environments characterised by massive youth unemployment, AECI Much partnered with Harambee Youth Employment Accelerator, a not-for-profit social enterprise that brings business together with young people seeking work. That was five years ago and has been a win-win for the company, the community and the individual, says Ayesha Isaacs, Group Human Capital Manager at AECI Much Asphalt.
"We know how hard it is to find employment, especially if you don't have any form of work experience,'' says Isaacs. "We see this as an opportunity to recruit fresh talent, to build raw candidates with potential into our requirements and our culture."
She estimates that some 60 job seekers from matriculants to graduates have entered AECI Much Asphalt via this source over the years. "We employ a candidate on a six-month contract. He or she spends two months at the weighbridge (where asphalt is weighed prior to dispatch), two months in the laboratory (where product testing and development take place), and two months on the asphalt plant," Isaacs explains. "This way we find where the candidate shows the most potential. Those who are the best fit are offered full time employment, while the remaining candidates complete the fixed-term contract with six months of paid training."
She says this arrangement not only reduces the risk to AECI Much Asphalt, but also gives all candidates a better chance of future employment through six months of intensive practical training to develop skills that will hold them in good stead moving forward. "Much is known for producing good calibre employees."
AECI Much Asphalt has recruited 16 full time employees via this platform, several of them working in its Gauteng Regional Laboratory in Benoni.
The firm also offers internships for students required to do in-service training as part of their qualifications as well as internal learnerships for employees.
Free technical skills for SMMEs
In another initiative that helps to build competence within the roads sector, AECI Much Asphalt offers free workshops to customers such as SMMEs and government departments that use asphalt for small projects. "We launched this initiative 15 years ago to promote sustainable asphalt paving on South Africa's roads and help emerging contractors grow their businesses," says managing director Bennie Greyling.
"By sharing skills on how to use our products properly we hope to provide employment opportunities in the construction sector and at the same time to broaden our client base."
The Best Practice Workshop on Hand Laid Hot Mix Asphalt provides practical instruction on techniques for the placement of hot mix asphalt by hand on small projects. Each delegate receives a manual on the selection, use and application of AECI Much Asphalt's products and a certificate.
Many hundreds of individuals have received the training across South Africa since the workshops were launched in 2006. "At the end of the day, AECI Much Asphalt and the contractor who is placing our product have a joint responsibility for its quality," says Greyling. "We need to work together for the best outcomes."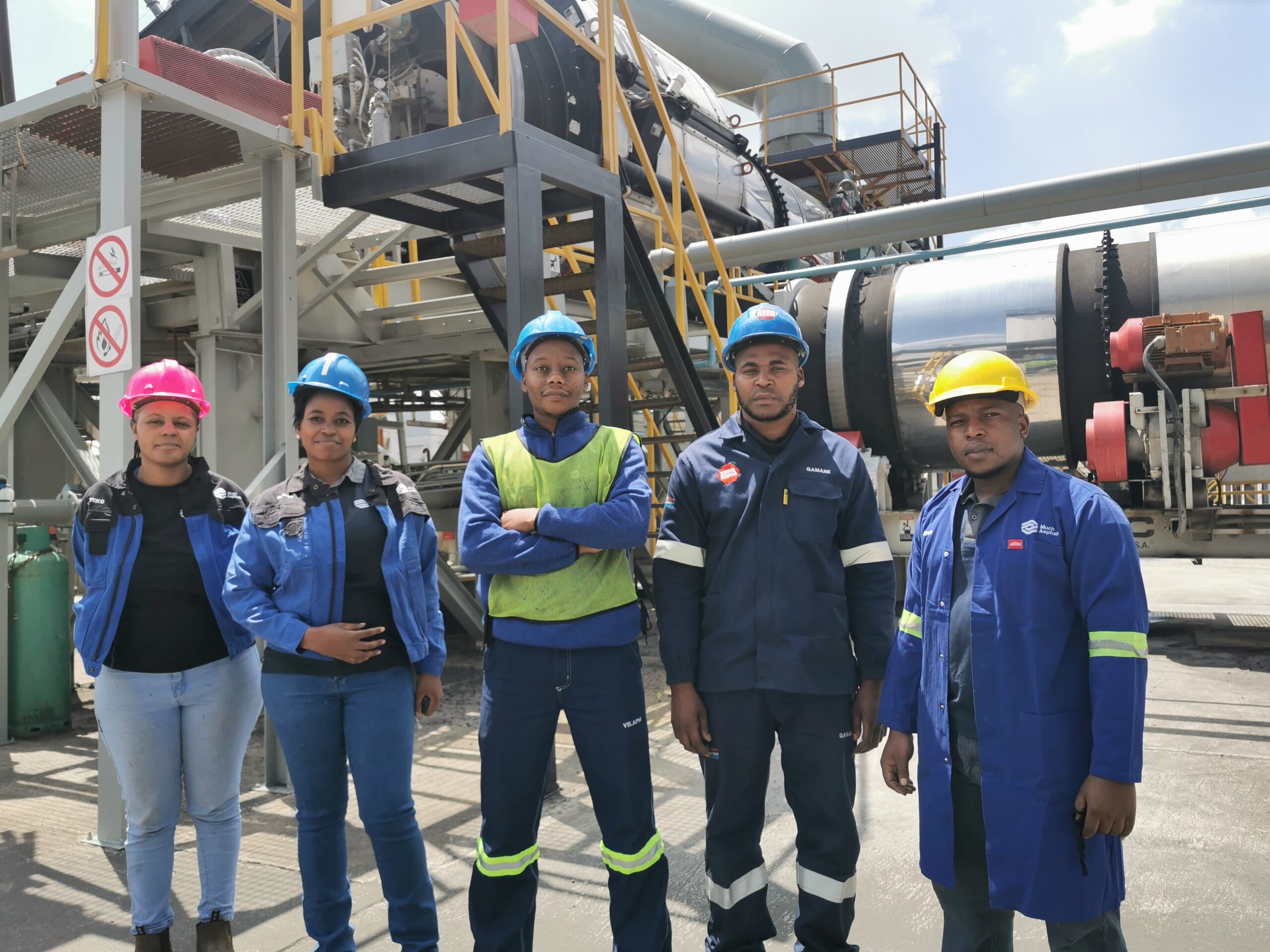 AECI Much Asphalt employees recruited through Harambee Youth Employment Accelerator
(from left): Benevolence Sithole and Petunia Mbatha, Lab Technicians at the Gauteng Regional Laboratory in Benoni;
Velaphi Thubane, Plant Technician at the Benoni Plant; Gamane Madonsela, Lab Technician at the Benoni Laboratory;
and Mmoick Matsie, Senior Lab Technician at the Gauteng Regional Laboratory.