The roads market is expected to grow in 2021. How is AECI Much Asphalt responding to opportunities?
Obviously the last 12 months have been very tough, but we have managed to maintain our capacity in terms of people and production. AECI Much Asphalt has 16 static and four mobile asphalt plants in southern Africa, as well as three binder manufacturing facilities.
Do you have solutions for labour-intensive construction?
Our hot and cold asphalt products can be used for pothole repair and small-scale surfacing, and we also have modified bitumen products for use in slurry seals, chip seals and crack sealing products.
Does AECI Much Asphalt have a strategy for the low-volume roads market?
Our range includes products such as "Sand Mix" and Micro Surfacing, designed for low volume roads, residential streets, and walkways. These products can be manufactured using local materials and offer cost effective alternatives to conventional asphalt roads. We also offer various modified bitumen products for use with slurry seals and excellent dust suppression solutions through our subsidiary, AECI Spraypave.
How can AECI Much Asphalt assist in terms of SMME contractor development?
Our free workshops for SMMEs in the use of hot mix asphalt from pothole repair to machine application are well known and respected in the industry. This is important to ensure the sustainability of asphalt pavements in South Africa and attracts large numbers of delegates.
We also provide training in the general administration of a business and basic financial administration.
As part of our adjusted procurement policy, we settle debt with SMMEs earlier than normal business practice to assist them in improving cash flow and strengthening working capital. Our BBBEE Level 1 status attests to our commitment to supporting small businesses and transformation within the industry.
Just in time delivery is the key. What sets AECI Much Asphalt apart from the competition?
The availability of key materials is paramount in our business and our focus on material sourcing sets us apart. Due to unreliable supply of some key resources, we have invested in our own storage capacity. While this practice goes against the JIT principle, it ensures that our customers' contracts are serviced without interruption.
In line with this strategy AECI Spraypave operates the only multistage bitumen converter on the African continent capable of supplying multiple grades of bitumen in smaller quantities then financially viable for oil refineries.
Please expand on current supply projects
Our Cape Town production facilities in Eerste River and Contermanskloof are supplying a rubber modified asphalt to the R44 between Stellenbosch and Somerset West.
In KZN current projects include the P338 between Camperdown and Thornville, supplied from our Pietermaritzburg plant, as well as the Bravo Taxiway project at King Shaka International Airport and various BRT Work packages on the Inanda Arterial supplied from Coedmore.
Projects supplied from our Inland Region plants include rehabilitation of the N4 near Emalahleni, rehabilitation and upgrade of the N3 in Villiers, and a three-year supply of hot and cold asphalt to the Johannesburg Roads Agency.
What is AECI Much Asphalt's policy on quality assurance?
We pride ourselves on our focus on quality assurance, as this is a differentiator in the current competitive asphalt and bitumen market.
AECI Much Asphalt's Central Laboratory (Cenlab) in Cape Town holds ISO 17025:2017 accreditation and our Gauteng regional laboratory is expected to follow suit later this year. We intend to include the bitumen performance grade tests as well as some of the asphalt performance tests in our already extended scope of accredited tests.
All AECI Much Asphalt and AECI Spraypave plants have their own dedicated process control laboratories and the mobile plants arrive on site complete with mobile laboratories. These laboratories assure the quality of all products leaving the plants and form part of our commitment to our ISO 9001:2015 quality certification.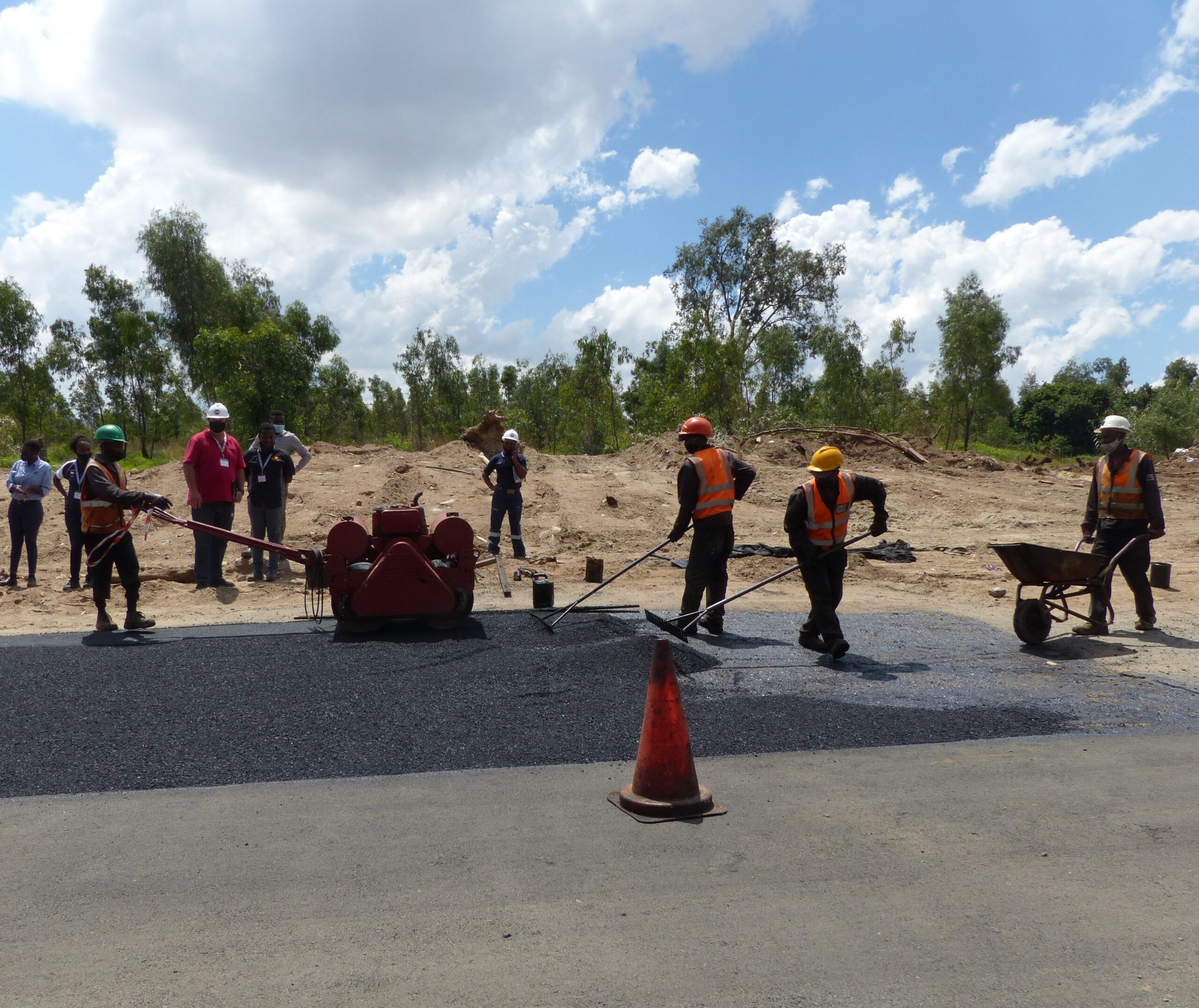 Hand-laid Hot Asphalt workshop presented by AECI Much Asphalt at its Roodepoort branch in November 2020, including input by AECI Spraypave on primes and emulsions. The programme was repeated over two days to comply with Covid-19 safety requirements.