A major operating system software upgrade is enabling AECI Much Asphalt to identify and standardize best practice across its manufacturing facilities in South Africa.
The upgrade has included modernizing its database to enable the generation of live plant reports that can be used to confirm the integrity of the asphalt and evaluate consistency across 15 manufacturing plants. Data from the plants, as well as weighbridges and laboratories, can be produced and interpreted on the same platform to link all aspects of the production process from design through to distribution for each plant.
"Our new system offers the unique ability to provide access to a significant range of live data, enabling our managers to make immediate, informed decisions," says Colin Brooks, Group Plant Technical Manager.
Analysis of the reports enables AECI Much Asphalt to compare international benchmarks with its own internal targets. Data provided includes the date and time of the batch, the recipe used, and measurements such as rate of production, bitumen tank temperature logging, bitumen and fuel level readings, as well as cold feed outputs.
''From this important information, we are able to create a standard template which can compare efficiency and quality in terms of start-ups, number of mixes, length of runs and other data," says Brooks.
"The benefit to our customers will be our ability to deliver a better-quality product on spec and on time. As we improve and standardize the best practices across all plants, we will also see an improvement in our energy usage, which will help to reduce our carbon footprint."
AECI Much Asphalt uses an Adroit operating software, which was developed in collaboration with Technopark Automation & Control (TAC) about 20 years ago. An upgrade to the Adroit software was required due to the shift to Windows 10. It was decided to dovetail this process with conversion of the database from Microsoft Access to SQL to standardize data capturing across all manufacturing processes from start to finish. Using the Adroit interface, TAC carried out all the back-end programming and changes.
The upgrade took place over a two-year period and was completed at the end of 2019. "While we previously captured our data, the challenge was that all the pickup points were allocated to different places in the database and so we would have to sieve through the data to make comparisons between plants," says Brooks.
"We are planning to upgrade further to enable live tracking of stock usage, which will assist in achieving quick and efficient stock management."
Training has been provided to staff on generation and interpretation of the reports. While some aspects of the process still need to be operated manually at this stage, Brooks says AECI Much Asphalt expects the system to be fully automated by the end of 2021.
"The Benoni plant is the only one that is not yet integrated as it uses a different operating system. We can generate reports, but not yet live data in real time," Brooks explains. "We are liaising with the manufacturer of the Benoni plant and are confident that a solution will be available soon."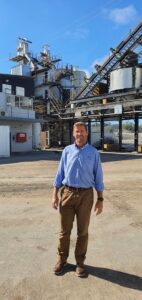 Colin Brooks, Group Plant Technical Manager, pictured at the AECI Much Asphalt Eerste River plant in Cape Town.